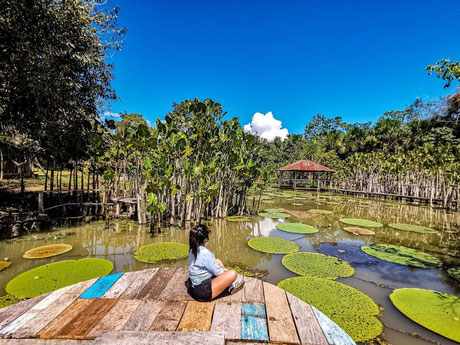 What to Do in Iquitos (Peru)
Iquitos, vibrant and mysterious, is a majestic gateway to the heart of the Peruvian Amazon. Dive in with us into this captivating corner, a destination we consider essential in your journey through Peru.
This urban jewel of the Peruvian Amazon stands at the confluence of the Amazon and Nanay rivers, anchored in the department of Loreto. With no roads connecting it to the rest of the world, this city will surprise you with its historic mansions, a legacy of the famous rubber boom, markets brimming with mysteries, and of course, the unparalleled views that the world's most powerful river gifts us.
How much time to spend in Iquitos? Although one day may be enough to tour the city, the true essence of Iquitos lies in the lush nature that surrounds it. Therefore, we suggest you immerse yourself for at least 3 or 4 days, ideal for excursions from the city or, preferably, from one of the charming lodges on the riverbanks.
As we drafted this guide, we came across this magical corner. After this experience, we passionately affirm that it's one of the most enriching experiences in the country. Discover the wonders awaiting you in Iquitos, the most enveloping excursions in the Amazon, where to rest, and valuable tips from our time in this land. Let yourself be swept away!
Belén Market and the Belén Neighborhood
This vibrant market is the beating heart of Iquitos. It's not for the faint-hearted; it's a sensory journey into Amazonian culture. From exotic meats to unique local products, it's a visual feast. Marvel at the Pasaje Paquito, where tradition collides with mysticism. And the Belén Neighborhood, dubbed the Amazonian Venice, is a living testament to human adaptability. If you decide to explore on your own, always follow local advice.
Iquitos Main Square (Plaza de Armas)
An oasis of calm and culture. Surrounded by historic buildings, the square comes alive in the evening when the coolness invites locals and visitors to socialize.
Iron House (Casa de Fierro)
An architectural treasure, a masterpiece by Gustav Eiffel. Discover its rich history while delighting in panoramic views from its restaurant.
Historic Ship Museum Ayapua Iquitos
Embark on a temporal journey, reliving the golden era of rubber.
Tarapaca Boardwalk (Malecón Tarapaca)
Let the sunset bewitch you as you stroll, savoring local life and enjoying the charms of the Itaya river.
Amazonian Indigenous Cultures Museum
Delve into the cultural legacy of the region, a treasure trove of knowledge and ancestral traditions.
Lodging in an Amazon lodge
More than just a stay, it's an experience. The lodges immerse you in the heart of the Amazon, where every day is a new adventure.
Iquitos awaits you with its magic, history, and mystery. Ready for the adventure?.... more info for fulldays and more info for jungle.
Iquitos, Perú, Amazonas Peruano, Río Amazonas, Río Nanay, Loreto, Fiebre del caucho, Mercado de Belén, Barrio de Belén, Cultura amazónica, Plaza de Armas, Casa de Fierro, Gustav Eiffel, Museo del Barco Histórico, Malecón Tarapaca, Río Itaya, Culturas Indígenas Amazónicas, Lodge en el Amazonas, Aventura, Naturaleza exuberante, Viaje sensorial, Tradiciones ancestrales, Amazon Rainforest, Peruvian Adventure, Eiffel Architecture, Indigenous Cultures, Amazon Lodges, Exotic Market, Iquitos Travel Guide, Rubber Boom Era, Amazonian Venice.